Here's a favorite of mine. A newly created online course of my husband, Avo's. He is a talented percussionist and a wonderful teacher. After years of live teaching, we finally got some lessons on video. We are excited to share the opportunity!
We've been using resources from Schoolhouse Teachers for a few years now. They have a wide variety of high quality teaching materials. It's all online, easy to access and is flexible enough to be used in any schedule. What they include in a membership is an amazing value!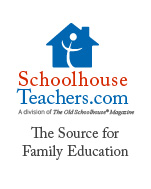 If you're looking for rare, out of print or just hard to find classics try looking on AbeBooks.com. They have most everything.
Love Math-Drills!

They provide excellent math resources, worksheets and general math encouragement.
Add to your art exploration.
The resources from Enrichment Studies add to any exploration of viewing or making art.
Erica Johns has been offering excellent resources for the study of art and music for quite awhile. Her materials are lovely, useful and inspiring. Definitely worth checking out.
Affiliates and resources.